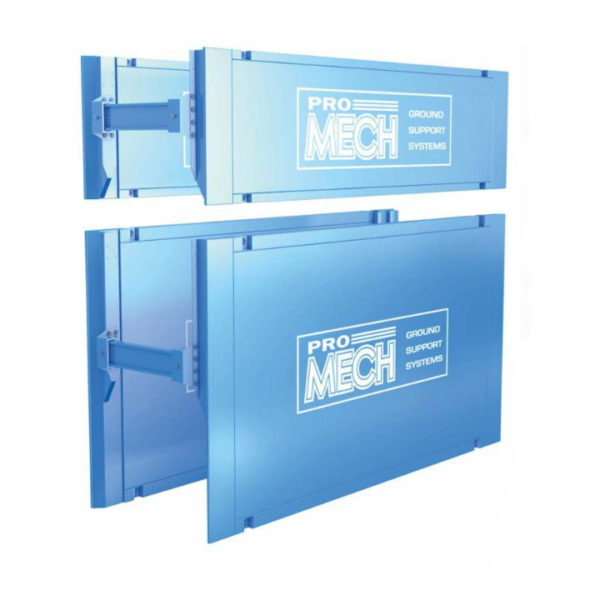 Midi Drag Box
The Midi Drag Box is ideal for use with long pipe runs, the size increases productivity allowing for a faster installation time. The Midi drag box can be installed using the 'Excavate and Drag' technique. The Box is placed in a pre-dug trench and pulled along the trench as each section of pipe laying is completed.
Product Description
For use in self-supporting soil.
3 fixed struts.
Lightweight.
From 972kg in weight.
Edge protection systems available.
Ladder access systems available.
Can be used in conjunction with Manhole Boxes.
| Struts | Size(mm) | Internal(mm) |
| --- | --- | --- |
| Size A | 508 | 550-750 |
| Size B | 838 | 800-1150 |
| Size C | 1190 | 1150-1500 |
| Size D | 1540 | 1500-1850 |
| Midi Drag Box | 3m x 2m | 3m x 1m | 4m x 2m | 4m x 1m | 5m x 2m |
| --- | --- | --- | --- | --- | --- |
| Panel Length(mm) | 3000 | 3000 | 4000 | 4000 | 3000 |
| Panel Height(mm) | 2000 | 1000 | 2000 | 1000 | 2000 |
| Panel Thickness(mm) | 60 | 60 | 60 | 60 | 100 |
| Min External Trench Width Width(mm) | 670 | 670 | 670 | 670 | 750 |
| Max Internal Trench Width(mm) | 1850 | 1850 | 1850 | 1850 | 1850 |
| Max Clearance Between Vertical Struts(mm) | 2830 | 2830 | 3830 | 3830 | 4830 |
| Max Clearance Below Bottom Strut(mm) | 1200 | – | 1200 | – | 1200 |
| Weight(kg) | 972 | 682 | 1476 | 882 | 2276 |
| Standard Working Load | 20kn/m2 | 20kn/m2 | 20kn/m2 | 20kn/m2 | 20kn/m2 |
You may also like…
Related Products