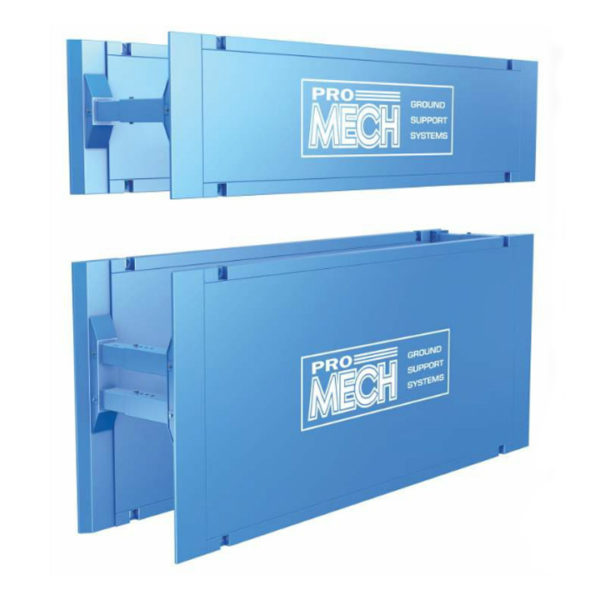 Standard Drag Box
The Standard Drag Box acts as a shield to protect users in self-supporting soil. It is designed to withstand up to 25kn/m2.Installation requires the 'Excavate and Drag' technique, the box is placed in a pre-dug trench and moved after each instalment of pipe.
Product Description
Lifting points for safe slinging.
For use in self-supporting soil.
Standard Drag Box 4 struts.
Edge Safe systems available.
Ladder Access system available.
Can be used in conjunction with Manhole Boxes.
| Struts | Internal(mm) | External(mm) |
| --- | --- | --- |
| Fixed 600 | 600 | 800 |
| Fixed 800 | 800 | 1000 |
| Fixed 1000 | 1000 | 1200 |
| A | 1200-1500 | 1400-1700 |
| B | 1500-2100 | 1700-2300 |
| C | 2100-3300 | 2300-3500 |
| D | 3300-5100 | 3500-5300 |
| Standard Drag Box | 5.1m x 1.8m | 5.1m x 2.5m | 7.0m x 2.0m |
| --- | --- | --- | --- |
| Panel Length(mm) | 5100 | 5100 | 7000 |
| Panel Height(mm) | 1800 | 2500 | 2000 |
| Panel Thickness(mm) | 100 | 100 | 100 |
| Minimum External Trench Width(mm) | 800 | 800 | 800 |
| Maximum Internal Trench Width(mm) | 5100 | 5100 | 5100 |
| Clearance Between Struts(mm) | 4520 | 4520 | 6620 |
| Max Clearance Below Bottom Strut(mm) | 1072 | 1500 | 1500 |
| Maximum Weight(kg) | 4227 | 5047 | 6297 |
| Standard Working Load | 25kn/m2 | 25kn/m2 | 25kn/m2 |
You may also like…
Related Products