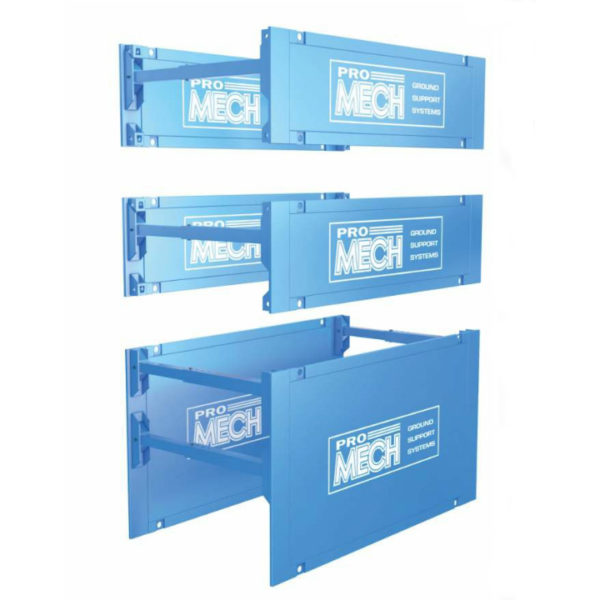 Standard Trench Box
The Standard Trench Box us used to provide a safe working area below ground and ensure that the side walls of an excavation are continually supported. Standard trench boxes can be used in conjunction with other boxes, including manhole boxes. They are quick and easy to install.
The standard trench box can be used in trenches up to 5.6m deep with widths from 600mm to 2800mm. Up to two extension boxes can be added on top of the standard trench box to achieve additional depth if needed.
Product Description
2 sided support
Used in conjunction with Manhole Boxes.
Additional top boxes available.
Quick and Easy to install.
Dig and Push method used.
Edge Safe.
Ladder Access.
Additional equipment available.
| Struts | Internal(mm) |
| --- | --- |
| Size 0 | 600-800 |
| Size 1 | 800-1200 |
| Size 2 | 1200-1600 |
| Size 3 | 1600-2000 |
| Size 4 | 2000-2400 |
| Size 5 | 2400-2800 |
| Standard Trench Box | Base | Top |
| --- | --- | --- |
| Panel Length(mm) | 3500 | 3500 |
| Panel Height(mm) | 2600 | 1500 |
| Panel Thickness(mm) | 100 | 100 |
| Overall External Trench Width | 800-3000 | 800-3000 |
| Weight(kg) | 2100 | 1130 |
| Distance Between Struts(mm) | 3210 | 3210 |
| Clearance Below Struts(mm) | 1500 | – |
| Standard Working Load(mm) | 40kn/m2 | 40kn/m2 |
You may also like…
Related Products